Nepal Rastra Bank (NRB) officials have said that qr code payments have become widespread in Nepal in recent times.
According to them, there has been a huge increase in transactions through QR codes, especially after the Covid-19 pandemic.
Officials say that such an increase is increasing rapidly.
Financial institutions and payment service providers are also reporting a significant increase in QR code transactions.
Customers who pay through QR codes, especially small businesses, have also said that this technology has greatly facilitated them.
However, they complain that with the increase in payments through QR codes, some problems and inconveniences have also been added.
Transactions with QR codes
According to Guru Prasad Poudel, Executive Director of Nepal Rastra Bank's Payment Systems Department, the attraction of Nepalis towards 'cashless' and digital transactions has increased in recent years.
"We have already started various types of cashless and digital transactions in Nepal. Of these, payment through QR code has become the most popular in recent times. "
A recent study report by Nepal Rastra Bank on payment systems has also said that QR code payment is becoming a popular medium.
"QR code is now a widely chosen mode of payment by customers," said the report on payment systems. "
According to the report, in 2021-22, qr code transactions increased by 382.8 percent compared to the previous year. Similarly, in 2020-21, there was an increase of 366 percent in such transactions.
Monthly turnover of Rs 30 billion
According to Poudel, around Rs 30 billion worth of transactions in Nepal are being done through QR code.
"This trend is increasing and expanding widely in many more places," he said.
According to the latest data released by the Rastra Bank, more than Rs 28 billion was transacted through QR code in may alone.
A total of 9.5 million transactions were made through QR codes during the month.
In the month of May 2019, transactions worth Rs 11 billion were made through QR code.
At that time, a total of 3.44 million transactions were done through this route.
According to the Rastra Bank, this data contains only one month's details.
According to Poudel, there is an attraction towards QR code even among small businessmen and customers.
"It has also made it easier for people to deposit money directly into bank accounts. It has also increased the tendency to save," he said.
What does the user say?
Kamal Shrestha of Sindhupalchowk, who drives a taxi in Kathmandu, has hung a QR code in his taxi.
Now many passengers pay him through multiple QR codes instead of cash.
He feels that payments from QR codes have also increased with the increase in passengers using ride sharing apps like Pathao and InDrive.
"While taking money from QR, the money given by the customer immediately goes to my bank account. Even if there is one penny, the interest increases. As a result, my savings have increased. Earlier, money was spent on looking at it," he says.
"I even helped five or six of my friends get QR codes and they too have started using QR now. "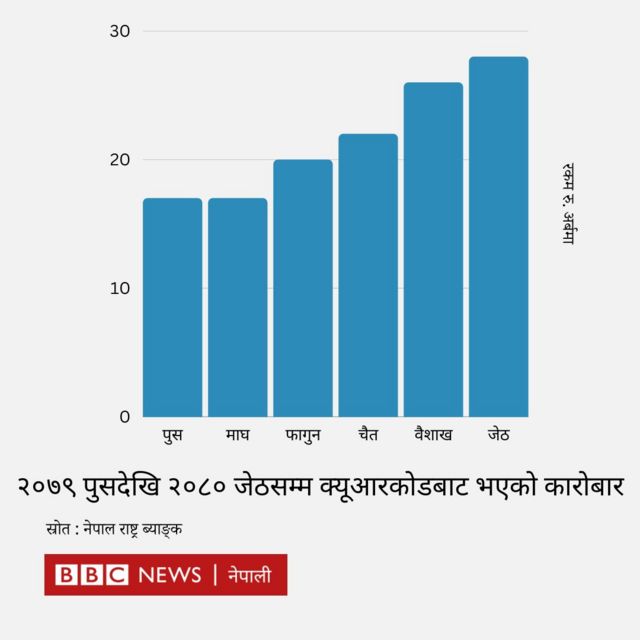 What does the regulatory body say about complaints?
QR Payment Officials claim that with the increase in users, it is natural to see various types of problems and complaints.
However, they say that necessary steps have been taken to resolve it.
"Many service providers are involved in making payments through QR codes successful," says Poudel of Rastra Bank.
"So we have to take care of all those aspects. We have been instructing to make arrangements to reduce the complaints as much as possible. "
According to him, financial institutions or payment service providers operating QR code services should have made arrangements to address complaints 24 hours a day and for this, a 'toll-free number' should be arranged.
He said that if any company does not solve the problem in time, the user can also complain to the Rastra Bank.
Poudel said that arrangements have been made for consumers to register their complaints online on the Financial Customer Protection Portal.
"We also take complaints related to digital services digitally. We have also placed information on financial customer protection portal on the first page of our webpage," he said.
"After registering a complaint there, we will take necessary action. "
Tikaram Magar, who runs a grocery store in Maligaon, Kathmandu, has also started receiving payments from QR code for about a year and a half.
"It made it so much easier, easier for the payer, easier for the taker," he said.
However, he complained that there have been some problems as well as ease of doing business.
According to him, the money sent to him by the customer in the last week of June did not come immediately.
"They were cut off from the payer, they didn't show it to me, and both of them were stressed," he said.
"But someone came two or four hours later and the next day someone sent it. "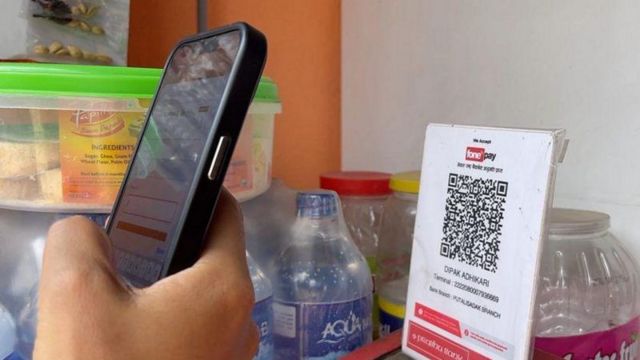 He said that although the problem has been averted because he knows the unpaid customers, it will be difficult to do so with strangers.
Saroj Sah of Janakpur, who lives in Koteshwor, is a recent graduate student in information technology.
He also pays most of the time through QR code.
But sometimes the problem of non-payment on time has raised doubts about the quality of service.
"The question of how secure this payment system is is is also being raised. Payments may be safe, but there is a lot of 'pendency'," he says.
"It may have happened due to some problems or bugs in the system of those operating the system, but it takes 24 hours to 48 hours to get the pending amount back. Those with limited money had trouble getting stuck!"
He suggests that financial institutions, including payment service providers, that provide QR code payment services should pay attention to this.
What is QR Code Payment?
According to officials, payments made through QR codes are called QR payments.
But QR codes are not only used for payment. After scanning the code through the camera, access to the data can also be obtained.
Since it is generated for the service to be delivered, when such a code is scanned, it takes it to the related service or data.
For example, instead of giving home's WiFi password, you can 'generate' its QR code and connect to WiFi through it.
"The QR code made for one is not the same for the other, so it is safe," poudel said.
For the first time in Nepal, PhonePe Payment Service Limited has started payment through QR code.
According to the nrb report, the group's QR code service is still being used by many.
Apart from this, other similar payment service providers and banks and financial institutions are also providing payment services through QR code.