Age, Biography and Wiki
Khadga Prasad Sharma Oli, commonly known as KP Oli, is a Nepali politician and the former Prime Minister of Nepal. He was born on February 22, 1952, in the Terhathum district of eastern Nepal.
Oli began his political career in the 1970s as a member of the Nepal Communist Party. He was imprisoned for several years during the Panchayat era (1960-1990) for his involvement in communist politics. After the restoration of democracy in Nepal in 1990, Oli became a member of parliament and served as a Minister of Home Affairs and Minister of Foreign Affairs in various governments.
In 2014, Oli became the leader of the Communist Party of Nepal (Unified Marxist-Leninist) and subsequently served as Prime Minister of Nepal from October 2015 to August 2016. He was re-elected as Prime Minister in 2018, but his government was dissolved in December 2020 due to internal conflicts within the ruling party. However, Oli was once again appointed as Prime Minister in May 2021, following a Supreme Court decision to reinstate the House of Representatives, which had been dissolved by Oli's government.
Oli is known for his strong nationalist and populist views, as well as his emphasis on economic development and infrastructure projects in Nepal. He has faced criticism from some quarters for his handling of the COVID-19 pandemic in Nepal and for his government's crackdown on political dissent.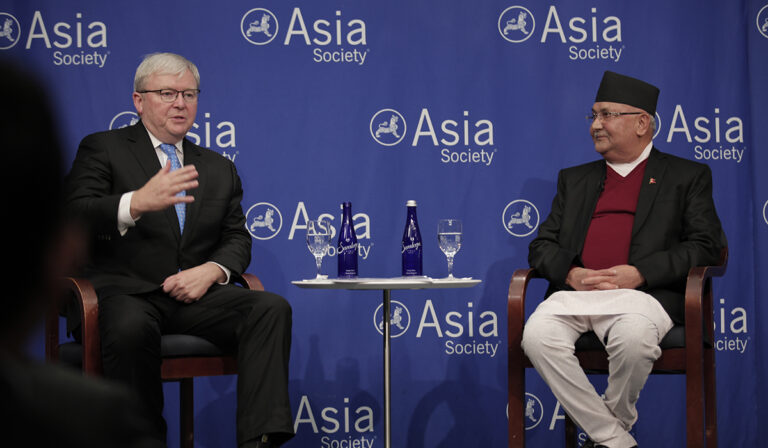 Member of the Parliamentary to the prime minister of Nepal 
The panchayat system ruled Nepal for thirty years. There was no freedom of speech, so all the political parties allied with the Democratic movement against the system in 1991.
On April 19, 1991, the Late King Birendra announced the multiparty Democracy with a constitutional king. Nepali citizens reinitiated the Democratic system in the country. After the end of the Panchayat system, the first parliamentary election took place in 1991.
Oli got elected from Jhapa-6 as a House of Representatives member, the Lower House of Parliament in Nepal. However, in the first parliamentary election after the Panchayat system, the Nepali Congress, a democratic party of Nepal, got a high majority in the parliament.
On May 16, 1993, Nepal had a significant political accident. The most popular and influential communist leader Madan Kumar Bhandari (Madan Bhandari), and party leader Jib Raj Ashret died in a jeep accident. After the famous leader's death, a significant movement happened against the government to find the culprit of the accident case, after the terrible death of the widespread opposition communist leader and inter-party dispute. Prime Minister, late Girija Prasad Koirala, announced the Mid-Term Parliamentary Election in 1994.
The Mid-Term Parliamentary Election entrusted CPN (UML) as the largest party, and Mr. Oli was re-elected as a member of the Lower House of Parliament from Jhapa-2 in 1994. UML president, the late Man Mohan Adhikari, became the first communist prime minister of Nepal, and Mr. Oli was appointed as minister for home affairs for the first time in 1994.
The first communist government got a chance to serve the people for nine months and became the most popular government after the panchayat system. In the country's parliamentary election in 1999, Mr. Oli was elected for the third time as a member of the Lower House of Parliament from Jhapa-6.
He was the third time regularly elected party leader, so he got the responsibility of deputy leader of the main opposition party in the Parliament of Nepal from 1999 to 2002.
Nepal faced a home war that calls the Nepalese civil war from February 13, 1996, to November 21, 2006. The battle continued for ten years, nine months, and a week. Nepal government and the Communist Party of Maoists made a comprehensive peace agreement in November 2006.
After the peace agreement, KP Oli was appointed as Deputy Prime Minister and Minister for Foreign Affairs of Nepal in the interim government led by Prime Minister late Girija Prasad Koirala from April 2006 to March 2007. In this government, Maoist leaders also got the opportunity to be ministers.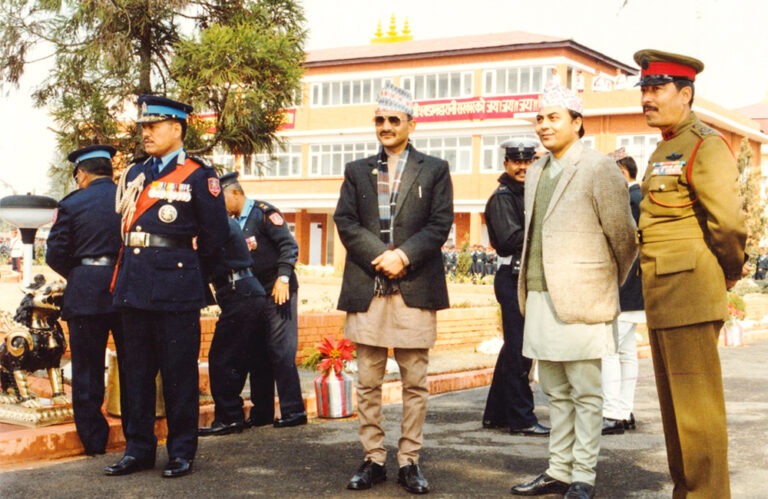 Maoism was the hope and fear of the Nepali citizens, so most people voted for them in the first election of the constitutional assembly held in 2008. Nepal was declared a Federal Republic state by then. Most famous leaders lost the elections; Mr. Oli was not an exception.
The first consultation assembly failed to promulgate new construction for the nation in a given time frame. So, in November 2013, the 2nd consultation assembly election took place, and Mr. Oli won as a member of the Constituent Assembly from Jhapa, election number seven.
After the country's new Constitution, Oli was elected as the Prime Minister of Nepal in a parliamentary vote on October 11, 2015, receiving 338 votes out of 597 members in the Legislature-Parliament of Nepal.
It was a tough time in Nepal because the massive earthquake in April 2015 devasted the nation, killing nearly 9,000 people, and about 22,000 Nepali citizens were injured.
And on September 23, 2015, India imposed an undeclared blockade in the bordering areas. The block affected Nepal to an enormous economic and humanitarian crisis.
The blockade caused great difficulty importing not only petroleum but also medicines and earthquake relief material for the earthquake victims. Hence, it remained a tough time for the people of Nepal. Prime minister Oli requested and talked with Indian prime minister Narendra Modi, but they did not listen to Nepal. At that time, the government of Nepal made good relations with northern neighbor China and agreed to purchase petroleum from there.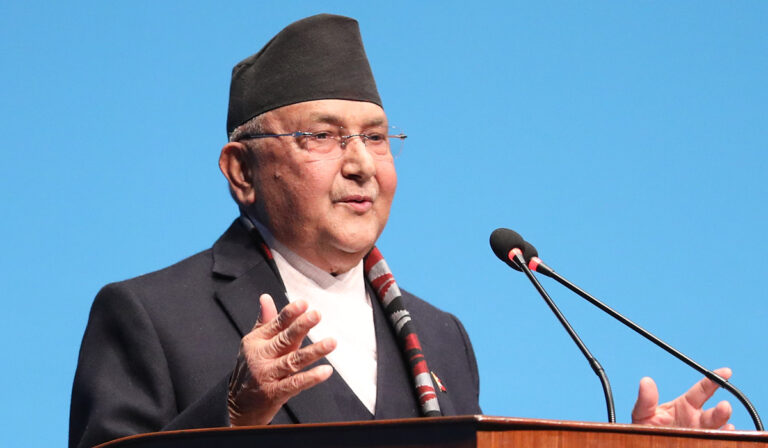 Oli spoke against the Indian government many times from the parliamentary house of Nepal and even during various programs publicly. The Non-residence Nepali community protested against the Indian government from Washington DC to London. Most Nepali citizens supported his voice against India; by March 2016, fuel shipments and other goods from India got normal.
He became the most popular nationalist leader of his stand against India's trouble. Because of his popularity inside and outside the country, the party started a game to fail his government. Knowing all the situation and conspiracy, the prime minister addressed the Parliamentary session at the legislature-parliament and resigned from the post of prime minister on July 24, 2016.
Nepal had a local election after 20 years in 2017, held in three phases: May 14, June 28, and September 18 in the premiership of Puspa Kamal Dahal "Prachanda." There are six metropolitan cities, 11 sub-metropolitan cities, 276 municipalities, and 460 rural municipalities in Nepal, and CPN (UML) secured most of the essential municipalities in the local-level elections.
CPN (UML) was in opposition during the local election, although the party won a majority position in the local government. Nepal Communist Party (Maoist) and Nepali Congress had made alliances at different municipal levels; however, they did not get the votes from the people as per their expectations.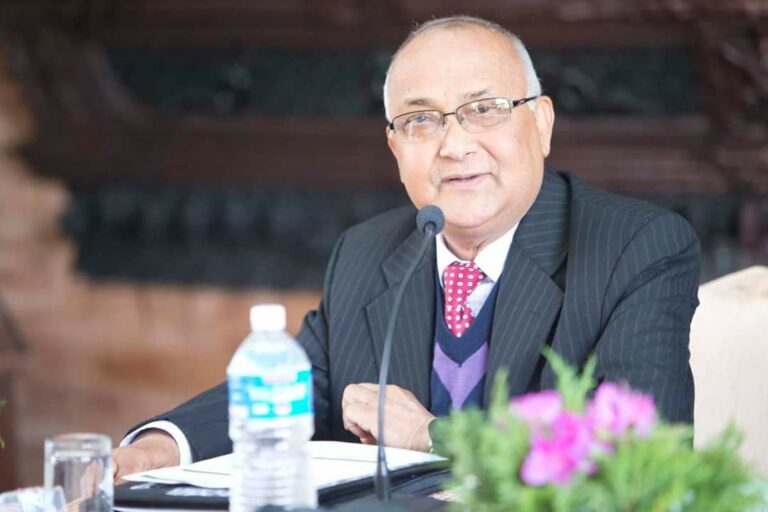 CPN (UML) was prevalent in mountain and hill areas, but the Terai region was weak. UML president Oli knew that it was impossible to form a majority government without an alliance between any two parties. To cash an opportunity to develop a majority government, the two largest communist parties, CPN (UML) and CPN (Maoist), made an election alliance and fought together to form the communist government under the leadership of Mr. Oli.
On November 26 and December 7, 2017, federal and provincial elections were held in two phases in Nepal. The election elected 275 members for the Lower House of the Federal Parliament of Nepal, including seven regional assembly members.
Following the Election Commission's final result, KP Oli of the Communist Party of Nepal (Unified Marxist–Leninist) became the 41st. Prime Minister of Nepal on February 15, 2018, according to Article 76 (2) of the existing Constitution.
Overall, KP Oli is a prominent figure in Nepali politics who has held various positions of power and influence over the years.
| | |
| --- | --- |
| Popular As | Kp Oli |
| Occupation | Politician |
| Age | 71 years old |
| Zodiac Sign | Pisces |
| Born | February 22, 1952 |
| Birthday | February 22 |
| Birthplace | Terhathum |
| Nationality | Nepali |
Party member to President of CPN (UML) 
Influenced by the communist leader Ramnath Dahal, Mr. Oli joined the communist party in 1966; Mr. Dahal was killed by the then political system (Panchyat) on Sunday, March 4, 1973, Sukhani of Jhapa. The forest lies at the border between Illam and Jhapa districts.
He became a full-time political activist in 1968 and got membership in the Communist Party of Nepal (CPN) in February 1970. For the first time under the Public Offense Act, he was sentenced to jail in 1970 by the then Panchayat system accusing him of being involved in the democratic movement to establish a republican country.
Oli was nominated as the Chief of the Jhapa Movement Organizing Committee in 1972, initiated by Ramnath Dahal, a martyr of the Jhapa movement of the Communist Party.
He advocates for freedom and Democracy. So, he was arrested with various false charges, such as his involvement in provocative acts, and was imprisoned for 14 consecutive years (1973-1987), including four years of solitary confinement. He was shifted to nine different jails around the nation during his imprisonment.
In December 1976, the Communist Party of Nepal, Marxist-Leninist (CPN (ML), was formed, and Oli was included as one of the founding members of the party CPN (ML), though he was in jail.
He was released from jail in 1987 and got the responsibilities of Central committee member of CPN (ML). He worked as in in-charge of Party activities in Lumbini Zone till 1990.
The democratic movement of 1990 established a democratic system by ending the existing Panchayat system, and Mr. Oli's started gaining height. After the establishment of Democracy, the communist party of Nepal (ML) decided to establish a party's youth wing; he became the founding president of the Democratic National Youth Federation, Nepal (DNYF), in 1990.
On January 6, 1991, the Communist Party of Nepal (Unified Marxist Leninist) was formed by merging the existing two different communist parties, namely the Communist Party of Nepal (Marxist Leninist) and the Communist Party of Nepal (Leninist). He became the founding Central Committee member of it.
He got the responsibility of the chief of the Central Department of International Affairs of CPN (UML) in 1992. He became a politburo member of the party central committee and the responsibility of Chief of the Central Department of Publicity in 1993.
CPN (UML) lost its central committee general secretary and most popular communist leader Madan Kumar Bhandari, known as Madan Bhandari. Mr. Bhandari had propounded the famous communist thought "People's Multiparty Democracy." With his leadership, the Nepalese communist movement was achieving a greater height. He was killed in a jeep accident at Dasdhunga, Chitwan, in 1993.
Madan Bhandari was not only an opposition leader in the parliament; he was the hope of the Nepali citizen. Mr. Bhandari's unexpected death in a Jeep accident deeply saddened the county's people. Oli became the head of the investigation committee of the Dasdhunga accident from CPN (UML)in 1994. Oli was becoming the hope of youth inside the party, and he was a clear speaker in public and parliamentary. So, he got the responsibility of Chief, Department of Parliamentary Affairs of CPN (UML) in 1995.
He proposed a motion on a tactical line of the party, adopted by an overwhelming majority. He was elected as a Standing Committee Member of the CPN (UML) and chief of the Central Department of International Affairs in 1998.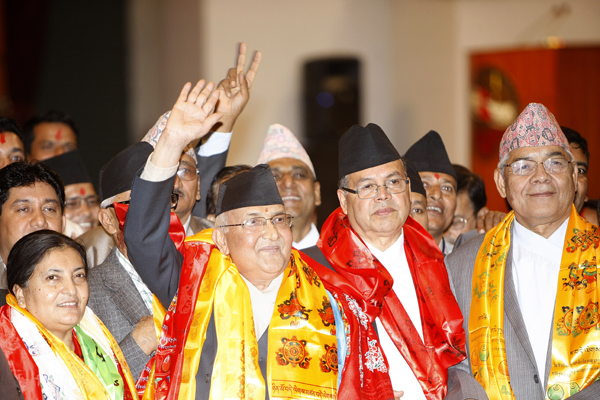 His proposal to restructure CPN (UML) 's central body with multiple positions such as President, Vice President, General Secretary, and Secretaries at the 7th National Party Congress in February 2003 was on hold. However, he was re-elected as a Standing Committee Member and re-assigned Chief of the Central Department of International Affairs of CPN (UML).
After the parliamentary election, CPN (UML) general secretary Madhav Kumar Nepal resigned from the party position, and Jhala Natha Khanal became the party, General Secretary. Mr. Oli got the Chief of the Central Department of Party School from 2008 to 2009.
CPN (UML) 8th National Congress accepted Oli's proposal of multiple positions in the central committee. He contested for party presidency; however, he was defeated by Jhala Nath Khanal during an interparty election in February 2009. After the 8th party congress, the central committee nominated him as the standing committee member and chief of the Central Department of International Affairs.
He became elected leader of the parliamentary party in the Constituent Assembly and legislature parliament by defeating the then-party President, Jhala Nath Khanal, on February 4, 2014.
CPN (UML) is a democratic communist party of Nepal; they practiced competition inside the Party Congress. During the 9th national Congress, held at Kathmandu on Thursday, July 3, 2014, with ten days extension, Mr. Oli fought for the party presidency against Madhav Kumar Nepal.
The delegates from around the country voted to select the party's supreme leader. Mr. Oli won over rival leader Madhav Kumar Nepal with 39 votes. During the election of the party president, Mr. Oli got 1,002 votes, while Mr. Nepal got only 963 votes.
Kp Oli Net Worth
His net worth has been growing significantly in 2021-2022. So, how much is Chandra Bhandari worth at the age of 61 years old? Chandra Bhandari's income source is mostly from being a successful Politician. He is from Nepali. We have estimated Chandra Bhandari's net worth , money, salary, income, and assets.
| | |
| --- | --- |
| Net Worth in 2022 | $1 Million – $5 Million |
| Salary in 2022 | 1-5 Million |
| Net Worth  | $3 Million |
| | |
Four honorary Ph.D. 
Oli completed his fifth grade at Pranami primary school in Aathrai, Tehrathum. He completed his high school at Himalaya Higher Secondary School, Jhapa. Then, he taught at a primary school in the Jhapa.
After he contributed to Nepalese democratic and communist movements, including the peace process, Oli was awarded four different honorary Ph.D. from various reputed Universities in Asia and America.
In 2010, Oli was awarded the first honorary Doctorate from Greenford International University, USA. There was some controversy about his award.
G.B. Pant University of Agriculture and Technology of India awarded him an honorary doctorate award On April 8, 2018.
The UN University for Peace at Costa Rica organized a special Convocation in San Jose, Costa Rica, to honor Mr. Oli with an honorary Doctorate to achieve peace and Democracy in Nepal on October 1, 2018.
KP Oli got his fourth honorary Ph.D. from Kangnam University, South Korea, On May 29, 2019, to contribute to Nepali politics.
He spent much time during jail life enhancing his knowledge of Nepal and the World's ancient and modern history. He had deep expertise in politics, history, culture, religion, and traditions.
Expect Nepali mother tong. He has good knowledge of English, i.e., reading, writing, and speaking. Similarly, he can speak Hindi, Bhojpuri, and a little Newari.
FAQ about KP Oli in Google
Many people use the Google search engine to learn more about prime minister KP Sharma Oli. Below is the answer to Frequently Asked Questions (FAQ).
KP Sharma Oli's wife?
Radhika Shakya is KP Sharma Oli's wife. On Monday, February 22, 1988, they married in Kathmandu valley, a progressive communist marriage ceremony with around 20 party members.
Radhika Shakya was working in the central bank of Nepal at the time of her marriage. Since then, they have been living together in the challenging and accessible times of their life.
KP Oli's Father?
Mohan Prasad Oli is the name of KP Oli's father. KP Oli's father re-married after the death of his first wife, Madhumaya Oli.
At one and a half years old, KP Oli's mother died, and he grew up in the care of his grandmother and grandfather.
KP Oli's son and daughter?
KP Sharma Oli doesn't have a son or daughter. But, many hundreds of communist party leaders address KP Oli as a Baa or father.
Nepal prime minister 2020?
KP Sharma Oli was appointed Prime Minister for a second time on February 15, 2018.
KP Sharma Oli, president of CPN(UML) with support from the Communist Party of Nepal (Maoist Centre), became the prime minister. From that date, he is continuing the prime minister.
Prime minister of Nepal 2021?
On May 13, 2021, President Bidya Devi Bhandari, albeit as a minority prime minister, as none of the opposition parties could form a majority government or lay their claim for it in the provided time frame.
Citing the provision mentioned in Article 76 (3) of the constitution, Oli, being the leader of the largest party in the House of Representatives, was the re-appointed prime minister of Nepal.
In other words, KP Sharma Oli has been the prime minister of Nepal since February 15, 2018.
news articles about KP Oli?
KP Oli resigned as Prime Minister of Nepal on July 12, 2021, after facing criticism from within his own party and opposition parties over his handling of the COVID-19 pandemic and his decision to dissolve parliament. Following his resignation, he was succeeded by Sher Bahadur Deuba as the new Prime Minister of Nepal.Now the Prachanda ( Puspakamaal Dahal Become the new primeminister of Nepal.
Kp oli's political career or personal life?
KP Oli is a Nepalese politician who has served as the Prime Minister of Nepal on two occasions, first from October 2015 to August 2016, and then from February 2018 to July 2021. He has been a prominent figure in Nepalese politics for many years and has held various positions in the Communist Party of Nepal (Unified Marxist-Leninist), including as its Chairman.
References